Rehabilitation Reablement and Restorative Care
As the Australian population continues to increase in age, supporting older adults to live meaningful and fulfilling lives for as long as possible has become a priority. In a 2022 survey, the aged care workforce nominated 'rehabilitation, reablement, and restorative care' as one of four priority topics for the sector. These three approaches aim to help older adults maintain the highest levels of function and recover from injuries and illness. This promotes a high quality of life by enabling by allowing people to continue to live independently, engaging socially and participating in the activities that bring them enjoyment.
The relationship between Rehabilitation, Reablement, and Restorative Care
This visual model shows that reablement and restorative care programs provided to older adults are less intense in approach and can provide a greater reach of services at lower costs. The complexity of rehabilitation and the need for health professionals to deliver rehabilitative services increases its expense and reduces its reach.
Image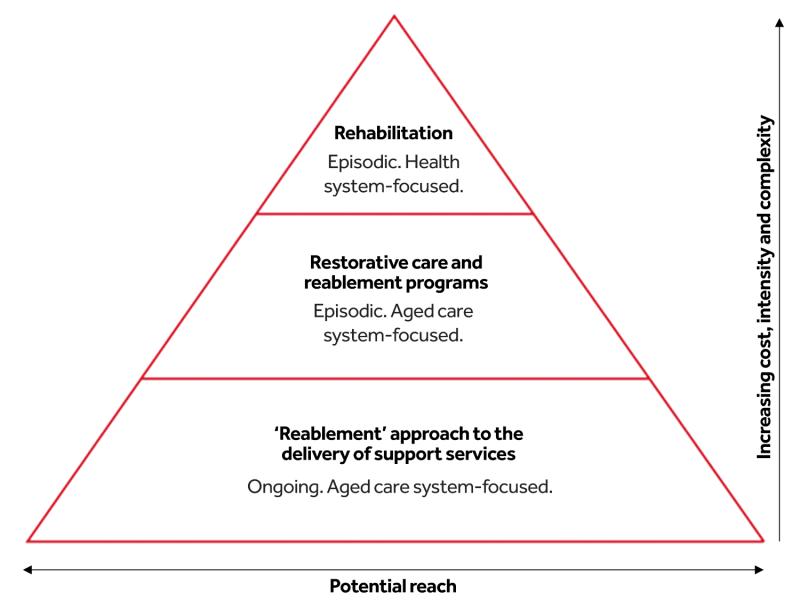 Image: reproduced with permission from The Royal Australian College of General Practitioners from: Poulos CJ, Poulos RG. A function-focused approach in primary care for older people with functional decline: Making the most of reablement and restorative care. Aust J Gen Pract. 2019 Jul;48(7):434-439. doi: 10.31128/AJGP-01-19-4808.
Rehabilitation Care Evidence and Resources
The Knowledge Hub has brought together the research evidence on what works in rehabilitation care with Australian online learning and practice tools and resources. This involved:
A scoping review of published systematic reviews revealed the main 'evidence themes' across the rehabilitation research.
An environmental scan of online resources in diverse formats such as guidelines, videos, learning modules, and downloadable information sheets.
The work was guided by an advisory group of research experts with expertise in the topic and people with experience in the sector.
Connect to PubMed Evidence
Projects
Find out about current Australian rehabilitation care projects and initiatives
Browse Projects
You might also be interested in